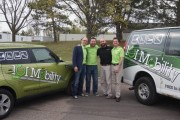 Local home exterior renovation gurus expand business portfolio with opening of 101 Mobility Twin Cities.
Minneapolis, Minnesota, June 29, 2015 (Newswire.com) - ​​When Andy Filer and Matt Joseph started Berkshire Home Solutions in 2008, they knew they would eventually scale the business. They didn't know scaling would lead them to franchising with rising franchise star and full-service mobility equipment provider, 101 Mobility.
Over the years, the Berkshire team poured hard work and energy into delivering excellent customer service and quality home exterior renovations. The seasonality of windows, siding, and roofing revealed an obvious industry shortcoming. Even so, cutting corners to build business was never an option. "We've always been excited to take the industry up another level for the customer," said Filer, President of 101 Mobility Twin Cities and member of Entrepreneurs' Organization.
Filer and Joseph began researching and found an alternate path to "scaling" without skimping on quality. The two signed on with Entrepreneur Magazine's Top New Franchise pick, 101 Mobility, and opened 101 Mobility Twin Cities this Spring. 101 Mobility caters to the booming market of senior citizens and people with disabilities in need of mobility solutions such as stair lifts, wheelchair ramps, and elevators.
The home renovation gurus chose 101 Mobility for strategic reasons. The mobility business is year-round. They also liked the idea of owning a locally-based business backed with national credibility and support. Filer and Joseph enjoy applying their remodeling experience to the new line of mobility products and services in this familiar business model.
They are able to provide homeowners with the products, installations, and warranties needed to be mobile and comfortable at home. "We had high standards in our existing business and found a partner that matches those standards in 101 Mobility," Filer explained. "We are experiencing a great response from this new market in Minneapolis already. Customers see quality solutions in all of our businesses."
Visit 101 Mobility Twin Cities Showroom Monday through Friday, 9:00am - 5:00pm. Browse stair lifts, auto lifts, vertical platform lifts, wheelchair ramps, and scooters online at http://101Mobility.com/Minneappolis.
###
About 101 Mobility
101 Mobility is a national franchise and full-service sales, service, and installation provider of a complete line of mobility and accessibility products and equipment, including stair lifts, auto lifts, ramps, porch lifts, patient lifts, power wheelchairs, scooters and more. Short and long-term rentals are also available for home, office, and institutions. By working with patients to identify which home health care devices best suit each individual's needs, 101 Mobility provides an alternative to group homes and rehabilitation centers by increasing accessibility and allowing clients to live self-sufficiently in their homes. Visit 101 Mobility online at http://101Mobility.com.