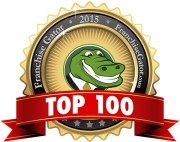 FranchiseGator.com recognizes 101 Mobility with two awards.
WILMINGTON, NC, June 25, 2015 (Newswire.com) - FranchiseGator.com, a popular website that boasts the largest directory of explorable franchises online, presented 101 Mobility with awards for "Top 100 Franchise in 2015" and "Top 100 Fastest Growing Franchise in 2015."
101 Mobility, which is headquartered in Wilmington, NC, is a full-service franchise business that specializes in selling, installing, and servicing mobility and accessibility equipment. With over 110 territories throughout the United States, 101 Mobility continues to expand its business into new arenas through its current franchise system.
"Winning awards from Franchise Gator is exciting, but also humbling," said Joel Brenner, 101 Mobility's Franchise Development Specialist. "Awards such as these serve as a reminder that we market products that are in high, and increasing, demand. However, it also shows that we sell a franchise that is equally in demand."
According to their website, Franchise Gator selected their Top 100 Franchises by measuring the quality of a franchise system over time. Their rankings are based on formulas that "focus on financial stability, growth, transparency, engagement, continuity, and stability."
"We are a company of innovation," Brenner remarked. "We embrace a company philosophy of empowerment for our employees and idea-sharing from our owners. This award is a testament to the vision of our leadership and the hard work that every single employee puts into supporting our franchisees and customers."
101 Mobility was also listed as #21 in the "Top 100 Fastest Growing Franchise in 2015." This ranking was taken directly from the Franchise Disclosure Documents (FDDs) that were submitted for their consideration.    
"Market demand and the growth curve for our segment is unquestionable. But ultimately, the high appeal for 101 Mobility franchises speaks to the excellence and operational strength of our system," Brenner explained.
According to Brenner, the future is bright for 101 Mobility. "We feel good about our future growth and will continue to build the company into a brand dominant position. Our passion for what we do for our veterans, customers, and owners will always be a big part of keeping us on top."
Franchise Gator offers their users authentic franchise and business information. Giving the service of linking real people with real franchise opportunities, users are able to search their site for a vast amount of available franchises. For more information, visit FranchiseGator.com.   
About 101 Mobility
101 Mobility is a full-service franchise business that specializes in mobility and accessibility equipment. Products include stair lifts, ramps, auto lifts, patient lifts, pool lifts, bath lifts, vertical platform lifts, and more. Visit 101Mobility.com to learn more.
101 Mobility franchisees are supplied with geo-specific online marketing campaigns, in-person training, on-going support, and a proprietary business management platform. Visit 101MobilityFranchise.com to find more information about our franchise process.
Share: