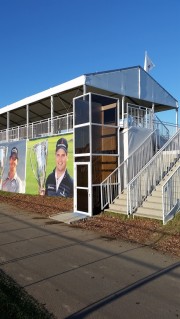 Chicago mobility dealer brings accessibility to PGA's BMW Championship in Illinois.
LAKE FOREST, ILLINOIS, October 7, 2015 (Newswire.com) - Before the PGA's BMW Championship took place last week, there was one local mobility provider on site working day and night to provide accessibility for all of its guests. In correlation with 101 Mobility and Harmar Mobility, 101 Mobility of Chicago was thrilled to help provide 10 wheelchair lifts for the Illinois event.
The 2015 BMW Championship (September 14-20), featured at Conway Farms Golf Club in Lake Forest, was the third of four events in the PGA Tour Playoffs for the FedEx Cup. Having over 20,000 guests in attendance, wheelchair lifts had to be installed on location to ensure ease of access to viewing areas. The premises also featured wheelchair-accessible hospitality suites and bathrooms throughout its 7,149-yard course.
Nick Lopez, owner of 101 Mobility of Chicago, said that although the state of Illinois is no stranger to sports, this was his first time contributing to a major outdoor event.
"Chicago is an area where there's always multiple sporting events going on," Lopez described. "Golf is a really big one here; and this is the first time we've seen a major golf tournament at Conway Farms. We are so happy to see the PGA and BMW work with 101 Mobility to increase accessibility."
101 Mobility was chosen to provide all wheelchair lifts for the event due to a successful bid from Wes Barefoot, National Account Manager. Working alongside Harmar Mobility, a leading lift manufacturer, 101 Mobility was able to offer 10 customized bright white lifts to meet PGA requirements.
Soon after securing the bid, Barefoot reached out to Lopez for assistance. "One of the biggest advantages 101 Mobility has as a company is our network of franchises," Barefoot explained. "Without the expertise of Nick and his team, we wouldn't have been able to pull it off."
Lopez said he was delighted to be included in the operation. "I said, 'Absolutely!' Anything that we can do to make things easier for people in general is what we're all about. Also if there's anything to further showcase the Chicago sporting world, we're going to be all behind it."
101 Mobility of Chicago dedicated two staff members for the entire week before the BMW Championship to install the lifts, as well as for tearing the equipment back down after. "These temporary set-ups have to be installed and taken apart quickly. So, in order to make sure we had everything on time, we had to work plenty in advance – that included weekends and even on Labor Day."
"Nick was extremely generous and flexible in making his technicians available for what turned out to be a very unpredictable timeline for the installation of these units," Barefoot shared. "It was a pleasure collaborating with 101 Mobility of North Chicago on this project; and we look forward to similar opportunities in the future."
Despite the time constraints and hard work, Lopez said establishing accessibility for all event-goers was the ultimate payoff.
"Chicago is the third largest city in America, so there's probably plenty of people who want to attend these sorts of events but can't do so due to their mobility. I'm happy we were able to provide help for those in need."
About 101 Mobility
101 Mobility is a full-service franchise business that specializes in mobility and accessibility equipment. Products include stair lifts, ramps, auto lifts, patient lifts, pool lifts, bath lifts, vertical platform lifts, and more. Visit 101Mobility.com to learn more.
101 Mobility franchisees are supplied with geo-specific online marketing campaigns, in-person training, on-going support, and a proprietary business management platform. Visit 101MobilityFranchise.com to find more information about our franchise process.
Share: