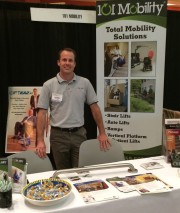 Equipped with a new owner, 101 Mobility of Denver begins fresh new start at Amazing Aging Expo.
DENVER, COLORADO, September 14, 2015 (Newswire.com) - When it comes to passion, Chris Boyle, the new owner of 101 Mobility of Denver, has got it. Boyle recently kicked off a campaign to spread the message of mobility made easy at The Amazing Aging Expo in Denver, Colorado.
Taking place on August 29 at the Marriott Tech Center, the third-annual Amazing Aging Expo featured expert speakers and exhibitors dedicated to tackling the issues faces by many senior citizens throughout the world. The occasion also held seminars, prize giveaways, food samples, and more.
101 Mobility of Denver was among the list of exhibitors this year, reaching out to answer questions concerning mobility solutions and engage with attendees. Estimated from the attendance of years prior, around 8,000 people took part in this year's event.
"The Amazing Aging Expo is a great opportunity for us to connect with the senior community and help them understand their options for making daily accessibility and mobility easier," Boyle shared.
Holding an exhibition at The Amazing Aging Expo marks a series of new beginnings for 101 Mobility of Denver. Boyle officially took over leadership of the business in June. Kathy Bell, the prior owner, still maintains a role within the organization by focusing on sales, particularly for products that involve Safe Patient Handling.
Since the change, Boyle has rolled out a program delivering improvements to the overall customer experience at 101 Mobility of Denver. "We already had a skilled and experienced team in place. We just needed to make our process a little simpler for ourselves in order to better benefit our customers," he said.
"I know we have turned the corner because our customers make the effort to tell me how great of a job our team is doing. That makes all of our hard work worth it."
101 Mobility of Denver has been selling, installing, and servicing mobility/accessibility equipment in the Denver area for over three years. The company's coverage area now serves the I-25 Corridor, from Colorado Springs to Fort Collins, and beyond.  
About 101 Mobility
101 Mobility is a full-service franchise business that specializes in mobility and accessibility equipment. Products include stair lifts, ramps, auto lifts, patient lifts, pool lifts, bath lifts, vertical platform lifts, and more. Visit 101Mobility.com to learn more.
101 Mobility franchisees are supplied with geo-specific online marketing campaigns, in-person training, on-going support, and a proprietary business management platform. Visit 101MobilityFranchise.com to find more information about our franchise process.
Share: