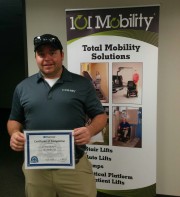 Chris Berry, an installer for 101 Mobility of Oakland County, achieves two certifications amid Michigan legislative changes.
BLOOMFIELD HILLS, MICHIGAN, July 21, 2015 (Newswire.com) - Big changes are coming to Michigan. Governor Rick Snyder signed legislation on May 21 to expand the pool of qualified mobility equipment installers, as long as they receive certification through the manufacturer themselves.
Seizing this opportunity, Chris Berry, Installer/Service Technician with 101 Mobility of Oakland County, achieved certifications from both Harmar and Bruno, industry-leading manufacturers of mobility products such as stairlifts and auto lifts.
This legislative ruling (Michigan Public Acts 34 and 35) allows seniors, veterans, and disabled individuals greater access to equipment needed in their homes.
"After August 19th, Chris will be fully-qualified to install and service residential stairlifts and most residential VPLs in the state of Michigan," said Hamilton Gayden, owner of 101 Mobility of Oakland County. "He's also certified for commercial applications as well."
Berry underwent a week of training with Harmar in Sarasota, Florida; followed by another week of training with Bruno in Oconomowoc, Wisconsin.  
At Harmar's headquarters, Berry was trained on installing and servicing Harmar VPLs, stairlifts, as well as auto lifts. At the end of a week-long training course, he received his Harmar certification.
At Bruno's headquarters, he was instructed on installing and servicing Bruno turning auto seats, Valet Signature seats, stair lifts, VPLs, and auto lifts. After his week-long training in Wisconsin, he received a Bruno certification.
"These training courses gave Chris knowledge and first-hand experience with these products. It also gave him the opportunity to ask technical questions he'll need in the field," said Gayden.
Before joining 101 Mobility of Oakland County's team in May, Berry's previous work history includes being a commercial utility installer, home builder, and working with deliveries for UPS.     
About 101 Mobility
101 Mobility is a full-service franchise business that specializes in mobility and accessibility equipment. Products include stair lifts, ramps, auto lifts, patient lifts, pool lifts, bath lifts, vertical platform lifts, and more.
101 Mobility franchisees are supplied with geo-specific online marketing campaigns, in-person training, on-going support, and a proprietary business management platform. Visit 101MobilityFranchise.com to find more information about our franchise process.
Share: