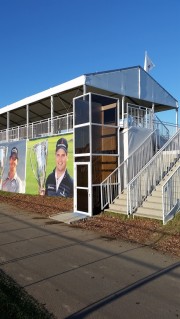 101 Mobility chosen to provide wheelchair lifts for PGA's 2015-2017 BMW Championships.
LAKE FOREST, ILLINOIS, October 7, 2015 (Newswire.com) -
When it comes to making sporting events accessible, 101 Mobility is the leader in the clubhouse. The company provided 10 wheelchair lifts, also known as vertical platform lifts, for this year's BMW Championship at Conway Farms Golf Club in Lake Forest, Illinois.
Taking place from September 14-20, the BMW Championship is the third of four events in the PGA Tour Playoffs for the FedEx Cup. With crowds in excess of 20,000, ease of access to the numerous viewing areas is critical. The course, which extends 7,149 yards, provides wheelchair-accessible viewing areas, hospitality suites, and bathrooms throughout the premises.
Wes Barefoot, National Account Manager for 101 Mobility, was able to secure his company a successful bid to provide all wheelchair lifts for the event. "This is the first project of this magnitude, in terms of the number of units, scope, and size," he said.
The lifts were specified to the exact requirements and standards of the PGA and were sourced from Harmar Mobility, a leading lift manufacturer.
Along with the help of Harmar, the company relied on assistance from 101 Mobility of Chicago and the expertise of Todd Behrens (101 Mobility of Houston). However, Barefoot shared that it took a little bit more than price negotiation to win the bid.
"The reason we had this opportunity in the first place was because we could provide bright white lifts to match the course's surroundings," he explained. "Since the product had to be customized, we reached out to Harmar. They were able to produce 10 bright white lifts at a variety of landing heights."
101 Mobility landed a three-year contract with the tournament, providing all lifts for the 2015, 2016, and 2017 BMW Championships.
But it doesn't stop there. Barefoot shared, "We're really excited that we've tapped into this exciting market: outdoor sporting events that need handicap-accessible solutions. Beyond golf, there are opportunities with NASCAR, tennis, horse racing, and other outdoor sporting events."
101 Mobility's next venture in the sporting world will be providing lifts for the Web.com Tour Championship's TPC Sawgrass in Florida.
"Having a franchise network gives us an advantage because we're able to have feet on the ground where a majority of these sporting events are taking place. 101 Mobility's goal is to be the clear, unequalled choice to provide accessibility for major events across the country."  
About 101 Mobility
101 Mobility is a full-service franchise business that specializes in mobility and accessibility equipment. Products include stair lifts, ramps, auto lifts, patient lifts, pool lifts, bath lifts, vertical platform lifts, and more. Visit 101Mobility.com to learn more.
101 Mobility franchisees are supplied with geo-specific online marketing campaigns, in-person training, on-going support, and a proprietary business management platform. Visit 101MobilityFranchise.com to find more information about our franchise process.
Share: