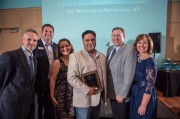 Miguel and Jessica Millan, husband-and-wife owners of 101 Mobility of Rochester, were presented an award for being Bruno's Northeastern Regional Leader.
ROCHESTER, NEW YORK, June 19, 2015 (Newswire.com) - After just over three years of owning their own business, Miguel and Jessica Millan of 101 Mobility of Rochester received recognition from Bruno as the Northeastern Region Leader for 101 Mobility.
"We're quickly becoming Northeast's biggest mobility dealer," Miguel spoke of 101 Mobility of Rochester. "It means that we're doing everything right when it comes to our customers. It means we're doing the right thing."
"We're quickly becoming Northeast's biggest mobility dealer. It means we're doing everything right when it comes to our customers."

Miguel Millan, Owner of 101 Mobility of Rochester
101 Mobility of Rochester is a leading provider of mobility and accessibility solutions throughout the entire Rochester area. Their outreach includes the counties of Monroe, Wayne, Ontario, Livingston, Genesee, and Orleans.
Both Miguel and Jessica were able to accept their award in person at this year's 101 Mobility Conference in Wrightsville Beach, North Carolina. Taking place at the Blockade Runner Beach Resort, officials from 101 Mobility and Bruno presented the Millans with their accolade during a Gala Awards Banquet on June 6th.
Bruno, a world leader in independent living products, recognized a total of seven 101 Mobility franchises for having the top sales volume in their region, as defined by the Bruno regional structure.
A plaque commemorating Miguel and Jessica's achievement was presented by Bruno's Corporate Sales Manager Charles Beno and Director of Sales Pay Foy, as well as 101 Mobility's CEO Dave Pazgan and VP of Operations Kathy Thiessen.
"On behalf of Bruno and 101 Mobility, we congratulate all of our Bruno Award winners this evening!" said Chris Diehl, host of the gala event.
Miguel said that he and his wife started 101 Mobility of Rochester years ago because they felt ready to pursue being business owners. "With our medical background, we knew it was going to be a great fit," he explained.
Over time, Miguel said they grew to favor Bruno equipment in their business. "Bruno products are easy to install and maintain," he expressed. "They've helped us to get a good reputation around town. People are even beginning to call us now to service their preexisting units."
According to Miguel, becoming 101 Mobility's Northeastern Regional Leader for Bruno has encouraged him to push harder throughout their entire coverage area.
For more information on 101 Mobility of Rochester's products and services, visit rochester.101mobility.com.
About 101 Mobility
101 Mobility is a full-service franchise business that specializes in mobility and accessibility equipment. Products include stair lifts, ramps, auto lifts, patient lifts, pool lifts, bath lifts, vertical platform lifts, and more. Visit 101Mobility.com to learn more.
101 Mobility franchisees are supplied with geo-specific online marketing campaigns, in-person training, on-going support, and a proprietary business management platform. Visit 101MobilityFranchise.com to find more information about our franchise process.
Share: