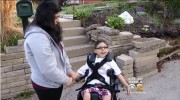 101 Mobility of Pittsburgh teams up with CBS Pittsburgh TV program "Get Marty" to provide mobility equipment for child in need.
PLUM, PENNSYLVANIA, October 16, 2015 (Newswire.com) - It's always amazing how a community can come together when there's a common goal afoot. Such was the case with improving mobility for Jeremy Gratton, a 7-year-old special needs child from Plum, Pennsylvania. After Jeremy's family reached out to CBS Pittsburgh TV program "Get Marty" for help in making their home accessible, support came in spades.
Altogether, volunteers and local companies were able to donate close to $75,000 worth of supplies and services for Jeremy – who is wheelchair-bound due to being diagnosed with spastic quadriplegic cerebral palsy. The finished product for the family included a new porch, retaining wall for the driveway, a ceiling lift, as well as a mobility device called a Liftkar.
"My reason for the donation was ultimately to help Jeremy and his family. It shows that 101 Mobility of Pittsburgh cares. It shows that we're not just out here to sell stuff."

Greg Slepecki, Owner of 101 Mobility of Pittsburgh
"I mean, that's the business we're in. We help people," said Greg Slepecki, owner of 101 Mobility of Pittsburgh. Slepecki donated the Liftkar, a $9,000 piece of equipment, to the Gratton family in order to help transfer Jeremy up or down stairs with minimal effort required.
The Liftkar works by using advanced mechanics to climb virtually any staircase. With the help of a caregiver, Jeremy wouldn't have to leave the comfort of his seat to travel the staircase in his family's front yard.
Although the Gratton family had never heard of or seen a Liftkar before, Slepecki shared that their reaction to the device was phenomenal.
"When I showed it to the family, his mother's eyes lit up," Slepecki remembered. "Prior to having a Liftkar, Jeremy's sister Faith would have to carry her brother down the stairs every day to the school bus. As he was getting bigger and bigger, it just kept getting harder for her to do."
"I am so thankful for what you have done for us," Nikki Gratton, Jeremy's mother, said of the entire operation during the televised program. "You are my guardian angels."
Slepecki first reached out to Marty Griffin, the host of "Get Marty," in May to extend 101 Mobility of Pittsburgh's services to any upcoming projects that could use their help. "Marty has a segment on the local news where if you're having some sort of major problem and can't seem to get any action you can call Marty," he explained. "He tries to do good things for good people."
"Marty said that he had met a family that was really struggling and was going to have to spend thousands of dollars to equip their home to be more accessible. When I heard all the things they were trying to do, I left him a message that said I had a device that could eliminate a lot of the work the family was having to do and could keep the budget way down."
After explaining how the Liftkar device operates to Marty, the TV segment host agreed that Slepecki's donation would be an excellent addition to the project.
"My reason for the donation was ultimately to help Jeremy and his family. It shows that 101 Mobility of Pittsburgh cares. It shows that we're not just out here to sell stuff," he explained.
Along with 101 Mobility of Pittsburgh, other contributors to the Gratton family project included Rebuilding Together Pittsburgh, the Pittsburgh Carpenters Union, and Ponsi Shoes.
To watch the full story on "Get Marty," visit http://pittsburgh.cbslocal.com/2015/09/11/get-marty-family-gets-medical-equipment/.
About 101 Mobility
101 Mobility is a full-service franchise business that specializes in mobility and accessibility equipment. Products include stair lifts, ramps, auto lifts, patient lifts, pool lifts, bath lifts, vertical platform lifts, and more. Visit 101Mobility.com to learn more.
101 Mobility franchisees are supplied with geo-specific online marketing campaigns, in-person training, on-going support, and a proprietary business management platform. Visit 101MobilityFranchise.com to find more information about our franchise process.
Share: