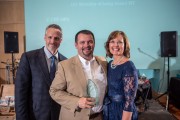 101 Mobility's Community Service Award was bestowed to John Michielini for his Lifesaver bracelet donations and home renovation project on NBC's "George to the Rescue."
WRIGHTSVILLE BEACH, NORTH CAROLINA, June 11, 2015 (Newswire.com) - John Michielini was presented this year's Community Service Award at the 101 Mobility Gala Awards Banquet on June 6th at the Blockade Runner Beach Resort on Wrightsville Beach, NC.
The Community Service Award was presented to the 101 Mobility franchisee that exemplified the highest level of community service for the past year.
"It's people like John that truly capture the servitude and enthusiasm 101 Mobility hopes to instill in others."

Chris Diehl, Host of 101 Mobility's Gala Awards Banquet
Michielini, franchisee of 101 Mobility of Long Island, was selected for donating a Lifesaver bracelet to a six-year-old child with autism, as well as appearing on the NBC television series "George to the Rescue" to assist with a home renovation project.
"While many view success as making large profits every quarter, 101 Mobility believes our franchisees can also be successful through the way that they are charitable of their time to their communities," said Chris Diehl, the host of the gala awards banquet.
"I cannot express my gratitude enough for this amazing gift," said Meredith Matheis, the mother who received a Lifesaver bracelet for her son, Kyle.
Lifesaver bracelets are used in order to find wandering children or elders. "Even with the three extra door locks and ear piercing alarm, Kyle has still managed to wander from our home twice," Matheis said.
"I am grateful that the Suffolk County Sheriff's Department was able to place the bracelet with a well-deserving family," Michielini said.
Michielini was also nominated for his appearance on "George to the Rescue" in September, where he and several area builders, designers, and manufacturers embarked with host George Oliphant to outfit a home for wheelchair accessibility.
Mrs. Klein, a beloved Floral Park Bellerose Elementary School teacher in Floral Park, NY, was outfitted with a full patio and garden renovation.
Michielini and his team from 101 Mobility of Long Island provided an easy-to-operate vertical wheelchair lift, along with complete installation, for Klein and her family.
"It's people like John that truly capture the servitude and enthusiasm 101 Mobility hopes to instill in others," said Diehl.
About 101 Mobility
101 Mobility is a full-service franchise business that specializes in mobility and accessibility equipment. Products include stair lifts, ramps, auto lifts, patient lifts, pool lifts, bath lifts, vertical platform lifts, and more. Visit 101Mobility.com to learn more.
101 Mobility franchisees are supplied with geo-specific online marketing campaigns, in-person training, on-going support, and a proprietary business management platform. Visit 101MobilityFranchise.com to find more information about our franchise process.
Share: