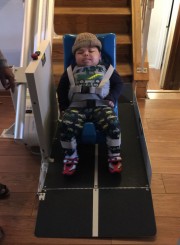 Make-A-Wish Illinois and 101 Mobility of Chicago band together to provide a lift donation for five-year-old Marlin.
CHICAGO, ILLINOIS, July 23, 2015 (Newswire.com) - Before it all, Jennifer White would have to carry her five-year-old son up and down the stairs every day. It wasn't easy. Weighing at around 50 pounds, keeping a good center of gravity while traveling the staircase was taxing.
"It was hard on me," Jennifer remembered. "I was having to carry him through several flights of stairs. When a nurse accidentally broke his wheelchair, I'd have to carry him all the way to the car. It was just a lot. It was unsafe, and he was really heavy."
"(101 Mobility of Chicago and Make-A-Wish Illinois) were just really good with their communication and asking questions about my son. They really tried to pick the best lift for his needs."

Jennifer White, Mother of 5-year-old Marlin
Despite enduring a daily struggle, Jennifer's loving efforts always came down to her son – Marlin. Marlin, who is turning 6 in a month, was born unable to walk. He suffers from conditions such as bone disease, strokes, epilepsy, and chronic lung disease.
Relying on the help of her mother, Jennifer also attends nursing school full-time throughout the week. "My mom would have to lift Marlin up and down the stairs by herself while I was gone," Jennifer said. "It was really a challenge for her."
Jennifer spent three years inquiring from organizations about any type of aid. "We had been trying to (receive assistance). We kept on getting denied," she recounted.
It wasn't until Nikki Lester, a new coordinator from Make-A-Wish Illinois, contacted her that the pieces started to fall in place. Jennifer said that although she was skeptical at first, she realized that the coordinator was truly passionate about meeting Marlin's needs quickly.
Lester asked for assistance from 101 Mobility of Chicago, a leading provider of mobility equipment in the area, to determine the correct equipment the White family needed.
"Jennifer's biggest challenge was bringing Marlin down the stairs to the main level," said Nick Lopez, owner of 101 Mobility of Chicago. Lopez decided that Marlin, who uses a special reclined baby seat to ensure proper breathing, would benefit best from an inclined platform lift, also known as an IPL.
"I reached out to David Baxter of Harmar (a leading lift manufacturer) and asked him if the company would consider working with us to make this happen for Marlin," Lopez recounted. Baxter accepted, and Harmar joined the effort to provide a donation for Marlin.
101 Mobility of Chicago and Harmar were able to perform a complete IPL install for over $10,000 less than average to be within Make-A-Wish's budget.
"We installed the IPL on Friday (June 26) and it was operational by that afternoon," Lopez said. "The White family was ecstatic. The grandmother even cried because a safe solution was in place for both Marlin and his mother."
The IPL allows Marlin to remain in his baby seat as he travels effortlessly from floor to floor, while the lift follows along the contour of the staircase.
"(101 Mobility of Chicago) did it really quick and it was just amazing," Jennifer remembered. "They were just really good with their communication and asking questions about my son. They really tried to pick the best lift for his needs."
"It's so much safer, and it's such an easier transfer process. I'm so thankful for everything."
About 101 Mobility
101 Mobility is a full-service franchise business that specializes in mobility and accessibility equipment. Products include stair lifts, ramps, auto lifts, patient lifts, pool lifts, bath lifts, vertical platform lifts, and more.
101 Mobility franchisees are supplied with geo-specific online marketing campaigns, in-person training, on-going support, and a proprietary business management platform. Visit 101MobilityFranchise.com to find more information about our franchise process.
Share: