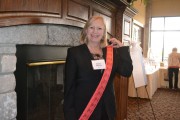 Donna Dziewik, owner of 101 Mobility of Greater Milwaukee/Madison, helped coordinate this year's Interfaith Tapestry Dinner.
WAUKESHA, WISCONSIN, June 18, 2015 (Newswire.com) - Celebrating a yearly tradition, Interfaith Senior Programs of Waukesha County held its 2015 Tapestry Dinner in The Legend at Brandybrook in Wales, Wisconsin. Serving as a member of the volunteer committee, Donna Dziewik of 101 Mobility of Greater Milwaukee/Madison was honored to help organize the annual event.
"They truly make a difference," Dziewik spoke in regards to Interfaith, a nonprofit organization based locally in Waukesha. "They do a lot of good in our community."
"It was amazing to have so many generous people attend the event and support such a worthy cause."

Donna Dziewik, Owner of 101 Mobility of Greater Milwaukee/Madison
Taking place on Tuesday, May 12th, the Tapestry Dinner brought together guests looking to "weave together a community tapestry," according to Interfaith's website.
Interfaith Senior Programs' mission is to engage and support Waukesha County seniors in leading meaningful lives. Through volunteer opportunities in the community and services designed to help those who are aging remain living independently in their home of choice, Interfaith strives to create communities where seniors are embraced.
"Being on the committee for the Tapestry Dinner was a wonderful experience," Dziewik said. "It was amazing to have so many generous people attend the event and support such a worthy cause."
Interfaith's Tapestry Dinner held a silent and live auction, dinner, raffle drawing, and "Interfaith Shares," where members of the organization and local community spoke on their experiences. Among the list of those who shared was Board President Ed Olson, Executive Director Kathy Gale, Community Integration Specialist Allyson O'Leary, and local resident Berenice "Bea" Theissen.
During the benefit, Terry Sutter was awarded The Edmond J. Vaklyes Jr. Memorial Award for his work with Interfaith and extensive list of other community organizations.
The event was sponsored by Corporations for National & Community Services, as well as United Way.
"They offer a wide range of services for the aging population: from a community outreach program, caregiver support, holiday gift baskets, transportation, and keeping people safe in their homes," Dziewik said of Interfaith. "They are a fantastic organization and do a lot of great work for the people in need of their services."
Dziewik, who serves in Interfaith through various roles, said there is definitely a correlation between her position with 101 Mobility of Greater Milwaukee/Madison and Interfaith.
"My goal when starting 101 Mobility of Greater Milwaukee/Madison was to provide solutions to our clients that improve their lifestyles, as well as give back to the community. Interfaith provides services as well that helps seniors in our community that have disabilities," she said.
Since 101 Mobility of Greater Milwaukee/Madison sells, installs, and services many mobility/accessibility products to individuals in the Waukesha area, Dziewik said the pull to volunteer with Interfaith was unquestionable.
"Each and every person I have met from the organization has a big heart and truly wants to make a difference. The more I learned about the organization, the more I wanted to help them. I feel they mirror our beliefs and values at 101 Mobility," Dziewik explained.
Interfaith Senior Programs brings together over 50 years of experience to the Waukesha community in serving over 1,000 seniors and disabled adults every year. For more information on their organization and upcoming events, visit http://interfaithwaukesha.org.
About 101 Mobility
101 Mobility is a full-service franchise business that specializes in mobility and accessibility equipment. Products include stair lifts, ramps, auto lifts, patient lifts, pool lifts, bath lifts, vertical platform lifts, and more. Visit 101Mobility.com to learn more.
101 Mobility franchisees are supplied with geo-specific online marketing campaigns, in-person training, on-going support, and a proprietary business management platform. Visit 101MobilityFranchise.com to find more information about our franchise process.
Share: